We're looking for someone to join our experienced team and make our characters come alive with humor and expression in a full time capacity for an 18 month contract.
You are a Senior Animator, with strong keyframe animation skills in Maya, along with a strong supplemental experience level in Unity, and storyboarding knowledge.
Your Demo Reel will include personal or professional work that demonstrates your ability to create cinematic pieces of work. That is, you understand the principles of cinematography and know how to create a cutscene, from its inception as a storyboard through blockout, and then polished product. You don't have to be Tarantino, don't worry.
This role is for somebody who wants to get stuck into cutscene storytelling, problem solving and planning. It involves creating quick turnaround storyboards, replicating these at a blockout level in Unity, and then eventually polishing these cutscenes with proper character and camera animation.
This is a Senior role, so looking for someone who is at a minimum a midweight or above. You'll be working with a Lead Character Animator and others.
Our eclectic mix of games (Moving Out, SP!NG, No Way Home,  RISK, Thumb Drift, Death Squared, OTTTD, One More Line and One More Dash) showcase how we don't like to rest on our laurels. 
We're looking for someone with a passion for character animation and making people laugh. 
We're working on a high profile family console title for Q4 2024 release that will entertain, excite and make millions of people laugh. Your animation work will be central to this.
This is a game you'll be excited and proud to be part of with an amazing team that respects creativity and quality.
People from diverse backgrounds or those from under-represented groups are encouraged to apply.
What you will do: (we're happy to discuss this JD with candidates to craft something that works for the right talent/skill set)
This is a highly creative role. This is for someone who WANTS to be part of the creative process with us

Manage yourself independently, working effectively and efficiently.

Plan, concepting, storyboard, block out and animate cutscenes to convey story, jokes and instructions to players

Keyframe animate characters, creatures & contraptions (vehicles, robots, environmental props) for various gameplay needs. 

Work with programmers to mix in procedural animation and keyframe animation to get the best end result. 

Work with existing or create your own rigs as needed. Or talk "rigger" to the tech art team to explain what you need

Concept and workshop ideas for animations and work with the various teams to bring to life gameplay ideas through animation

Create multiple variations of highly used animations to surprise players with each play through

Integrate with voice over and provide feedback on scripts to ensure VO is used for maximum effectiveness

Suggest ideas on how animation can make our games funnier and more interesting

Collaborate with programmers and designers to enable a functional workflow to create quality animations

Give and receive constructive feedback on your work and the work of others

Integrate animations into Unity

Maintain and strive for the highest production quality possible while also knowing where to put the energy in for maximum effect and ignoring stuff that no one will see or care about. Seriously, we're not perfectionists, we focus on what's important.
Requirements:
Experienced with timeline in Unity, especially Cinemachine.

Ability to animate multiple styles and unique characters

Strong keyframe animation skills in Maya with a pipeline into Unity

Highly collaborative

Strong understanding of body mechanics in animation

Quick-thinking, personable, flexible and adaptive

Keen sense of humor (We want our games make people laugh)

An understanding of technical needs & quirks of animating for games

Experience working with a team on a commercially released game title or animated series/film

Ability to work remotely with our team in Sydney.

A +- 6hrs with SYDNEY timezone (you'll be working closely with the team so want that ability to have maximum feedback crossover time)
Non Technical Skills:
Great work ethics, and a problem solving attitude.

Good English, written and verbal.

Confidence & capability (emotional intelligence) to communicate ideas, solutions & potential issues 

Diligent and respectful.

Good time estimation of effort.

No ego

A passion for constantly making things better and mastering your craft.

Experience working on animated family films a bonus
The Team: 
We're a tight and experienced team from all around the world including Finland, Russia, Mexico, Brazil, France, Italy, UK, USA, Germany and even NZ!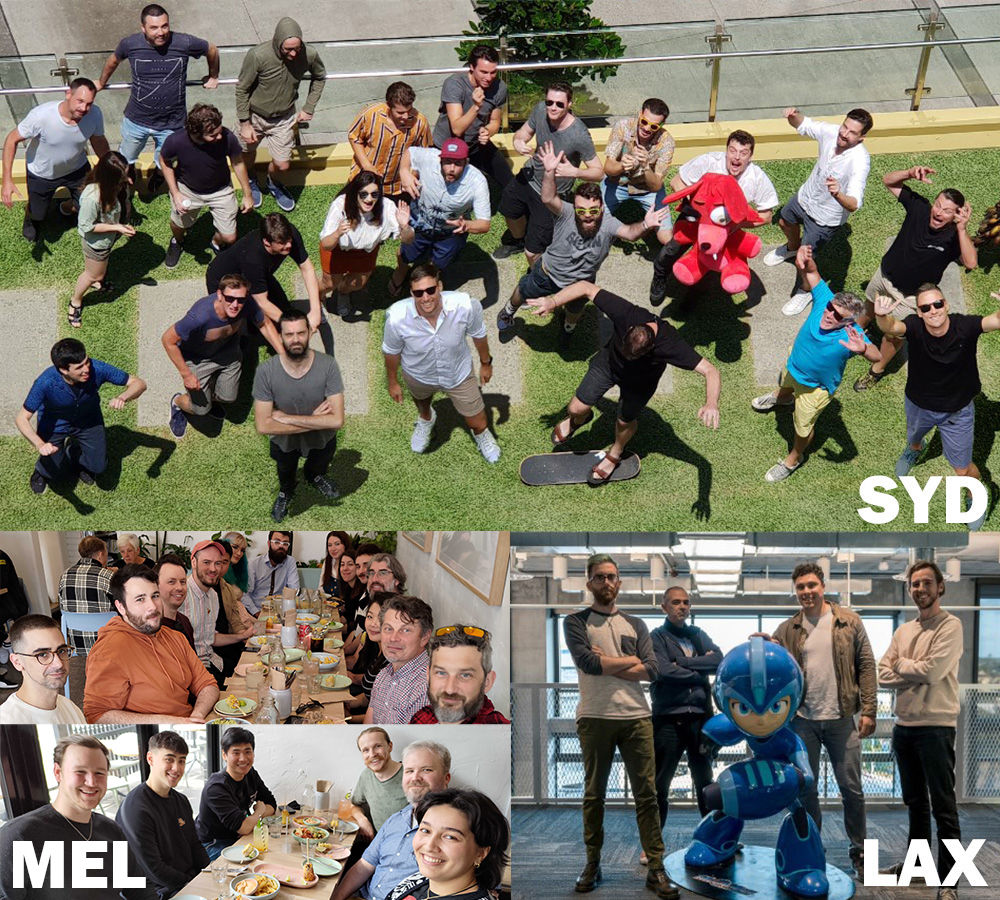 We've shipped 10 titles, won multiple awards and are proud of our long tenure with 10 people serving over 10+ years with the team. We also have more parents in the team than < 25 and embrace flexibility to help people spend time with their kids & family.
Benefits
5 weeks annual leave after 2 years

3 wellness days leave

One day a year paid charity volunteer day (One Day for Change)

Increased paid primary carer's leave from 12 weeks to 16 weeks

Superannuation is paid on any unpaid leave (up to 52 weeks)

Increased paid secondary carer's leave from 2 weeks to 4 weeks

Paid learning workshops across a variety of topics (Project Management, Resilience & Stress Management and Time Management)

Flexibility to work from home

(we are 90% WFH now) or office in Sydney or Melbourne within a +-6 hrs to SYDNEY timezone

Free counseling . Employee Assistance Program, 24 hours | 7 days.

Health insurance discounts from Medibank Private

(AU only)

Vehicle discounts. Discounts from BMW, Mini, Jaguar and Land Rover ​

(AU only)

Novated lease available for new cars

(AU only)
How to Apply
Demo Reel of work required