Overview
NCI is a leading provider of enterprise solutions and services to U.S. defense, intelligence, health and civilian government agencies. NCI's AI solution, Shai(tm), scales humans with artificial intelligence by empowering the workforce to meet their mission by using best in class AI solutions coupled with our exceptional service offerings. Working with strategic partners, NCI is committed to bringing commercial innovation to missions of national importance. NCI is a mid-tier systems integrator headquartered in Reston, VA, and operates at locations across the globe.
NCI has been designated a 2020 Military Friendly Employer by MilitaryFriendly.com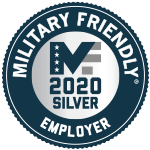 Responsibilities
NCI: The Customer Service Rep I confers with customers by telephone and input data. 
Responsibilities:
 Requests records and information from providers. Responds to telephone inquiries promptly, professionally, and efficiently to provide resolution.
 Understands and resolves provider's questions and provide analysis of situation to determine best use of resources. 
 Serves as liaison between the providers and the various departments or team members in response to inquiries.
 Responds to all written inquiries (letter, fax, e-mail) in a professional manner.
 Processes rejected records that do not meet initial inspection criteria and contact Providers to resubmit legible copies.
 Provides assistance to the providers in identifying what is being requested and be able to provide answers to their queries.
 Maintains a high level of knowledge and comply with all protocols, policies and procedures
 Should be able to lift 50 pounds, and able to work in other departments as needed. 
 Even this positon is remote, but you will be asked to come to site for other tasks/projects. 
Qualifications
Requirements:
I: High School Diploma or equivalent related experience
0 – 5 Years experience
Physical Requirements:
This position requires the ability to perform the below essential functions:
Sitting for long periods
Standing for long periods
Ambulate throughout an office
Ambulate between several buildings
Stoop, kneel, crouch, or crawl as required
It is the policy of NCI to provide equal opportunity in recruiting, hiring, training, and promoting individuals in all job categories without regard to race, color, religion, national origin, gender, age, disability, genetic information, veteran status, sexual orientation, gender identity, or any other protected class or category as may be defined by federal, state, or local laws or regulations. In addition, we affirm that all compensation, benefits, company-sponsored training, educational assistance, social, and recreational programs are administered without regard to race, color, religion, national origin, gender, age, disability, genetic information, veteran status, sexual orientation, or gender identity. It is our firm intent to support equal employment opportunity and affirmative action in keeping with applicable federal, state, and local laws and regulations.  NCI is a VEVRAA Federal Contractor.